By Chris Forsberg
ESPNBoston.com
Archive
It was clear from the start this was going to be an amusing ride.
Two hours before tipoff of his first game in a Celtics uniform,
Shaquille O'Neal
was practically performing a comedy routine in a tiny hockey locker room inside the Verizon Wireless Arena in Manchester, N.H. From smashing
Nate Robinson
with an oversized stretching pad to flashing his police badges to joking with reporters that he had no idea he was even in the Granite State, O'Neal couldn't stop making people smile.
Then he hit the floor and chipped in eight points on 4-of-5 shooting with two rebounds, a steal and a blocked shot and spent the rest of the night hamming it up on the bench. After the game, in between disclosing his interest in purchasing the world's tiniest horse, O'Neal said something he had no idea would be so prophetic.
"Just trying to stay 1,000 percent healthy," he said. "Because in a couple a weeks, you know, it's for all the marbles."
We're inclined to remember the present better than the past, so it's unfortunate that O'Neal's time in Boston will be defined by the injury struggles that limited him to a mere 17 minutes, 30 seconds of action after Feb. 1.
But from the moment a bow tie-clad O'Neal strutted to the makeshift podium for his Boston introduction in August until the injury forced him to duck from the public spotlight seven months later, O'Neal lived up to his larger-than-life reputation and proved to be one of the most fascinating athletes to pass through Boston.
[+] Enlarge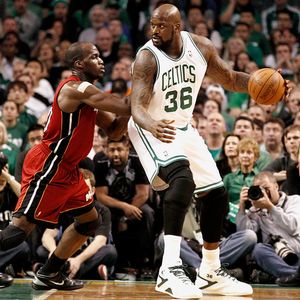 AP Photo/Winslow TownsonShaquille O'Neal played only 12 minutes in two playoff games.
Now that O'Neal has called it a career, we should reflect not on what he wasn't able to do in his final months but on what he provided before the injury robbed him of his Superman cape.
Which brings us back to that night in New Hampshire. His on-court activities complete, O'Neal saddled up near Turkish rookie
Semih Erden
and, despite the obvious language barrier, tried to school him on the finer points of the NBA game.
A few minutes later, Erden was back on the floor but passed up a chance to back down Philadelphia's
Marreese Speights
. O'Neal perked up and, in his bellowing tone, screamed from the sideline, "Semih, kill him," complete with thumb across the throat gesture.
Speights, a former first-round pick, was incredulous. He glared at O'Neal as the rest of the Boston bench erupted in laughter, only to watch Erden get the ball, back Speights down and draw a foul to get to the free throw line.
Yes, it was obvious Shaq was going to have as much of an impact off the court in Boston as he would on it.
In the preseason, O'Neal collaborated with Robinson on what amounted to a Twitter sketch-comedy series, the two pulling pranks on each other while giggling teammates filmed the action on their iPhones for immediate upload. Shaq's antics were enough to even get teammate
Kevin Garnett
to let his guard down during camp.
"Chemistry's been very good, needless to say," a smiling Garnett said at camp after being caught holding the camera for one of the training camp videos. "It's a goddamn zoo around here, but it's all good, we're getting some work done."
Garnett later admitted that Shaq's presence allowed him to enjoy the season more than he might have otherwise. This was, after all, a player whose introductory press conference Garnett had flown in from Hawaii to be at. Yes, even former MVPs got caught up in the spectacle that is Shaq. And O'Neal rarely disappointed during those first few months in Boston.
O'Neal used the last preseason off day to trek to Harvard Square in Cambridge, where he plopped down on a bench as a human statue and allowed fans to take pictures with him for an hour. On Halloween, he dressed in drag and dubbed himself Shaquita, the fun only tempered when Boston police pleaded with him not to ride an MBTA train in fear of a riot situation.
[+] Enlarge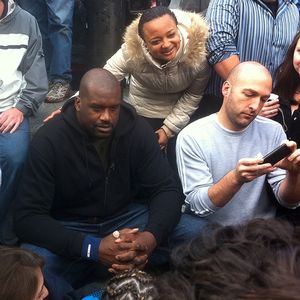 Chris Forsberg/ESPNBoston.comA statuesque Shaq sat motionless on a bench in Harvard Square while fans milled around him snapping photos.
There were Shaq-a-Claus visits to local toy stores, and a tuxedo-clad Shaq conducted a holiday medley with the Boston Pops. On his 39th birthday, O'Neal threw a party at the Children's Museum in Boston and served up cake to the youngsters on hand. A few nights later he dropped in on a North End nursing home to watch a Celtics road game after a resident wrote him a letter inviting him to dinner.
O'Neal promised the stunts would end when the games started to matter more, and true to his word, his public appearances dwindled as the playoffs neared. Heck, we didn't even see a lot of Shaq around the team, O'Neal immersing himself in a cone of silence as he worked diligently toward an on-court return.
And O'Neal worked
hard
to get back on the floor. Coach Doc Rivers and Celtics president of basketball operations Danny Ainge stressed after the season how tireless those efforts were for a player that could have just called it a career.
"My biggest thing with Shaq was I gained a lot of respect for him," Ainge said. "I saw how hard he worked and he'd do anything to get himself back on the court. And the Achilles and calf, that whole area of his leg, just never responded like he hoped."
Back in the preseason, O'Neal acknowledged his own NBA mortality and seemed at peace with it (then again, he thought he had two more seasons in him at that point).

"The window is called Father Time," O'Neal said in late September, while reclining on a bench inside the Rodgers Recreation Center on the campus of Salve Regina University in Newport, R.I. "There's always that window. I realize that, in 730 days, I won't have many options. Which is fine. I've been doing this for 20 years. It's part of life.
"I remember my Dad was a good-looking drill sergeant, and one day he just came home and quit. He just got older and couldn't do it anymore. He couldn't beat anyone up anymore. He couldn't stand up anymore. It happens. My dad was the fittest man in America."
Shaq was the most dominant force in basketball, but injuries wouldn't allow him on the floor by season's end. That should take nothing away from what he brought this city over the past 10 months.